What Are The Benefits Of Steam Cleaning My Carpets?
Benefits of Carpet Steam Cleaning – Carpets are a great way to add style and cosiness to your home floor. Carpeting on the floor keeps your feet warm and comfortable while giving aesthetic value to our living areas. They might, however, also be a shelter for allergens, dust, and other contaminants if you don't care for them properly. But carpet steam cleaning can be the solution to your problem. Your carpets will look and smell their best if you do steam cleaning timely. This can remove all of this dirt and germs buildup. 
Doing the work of steam cleaning, experts use hot water and steam to get rid of dirt and grime from your carpets. It is a very effective way to keep carpets fresh without any hard work. But this can be tackled easily with only professional carpet cleaners. This way of cleaning carpets can give you several benefits. So, let's start with the benefits of carpet steam cleaning. In this article, we will talk about the advantages, processes, and pros tips of steam-cleaning carpets.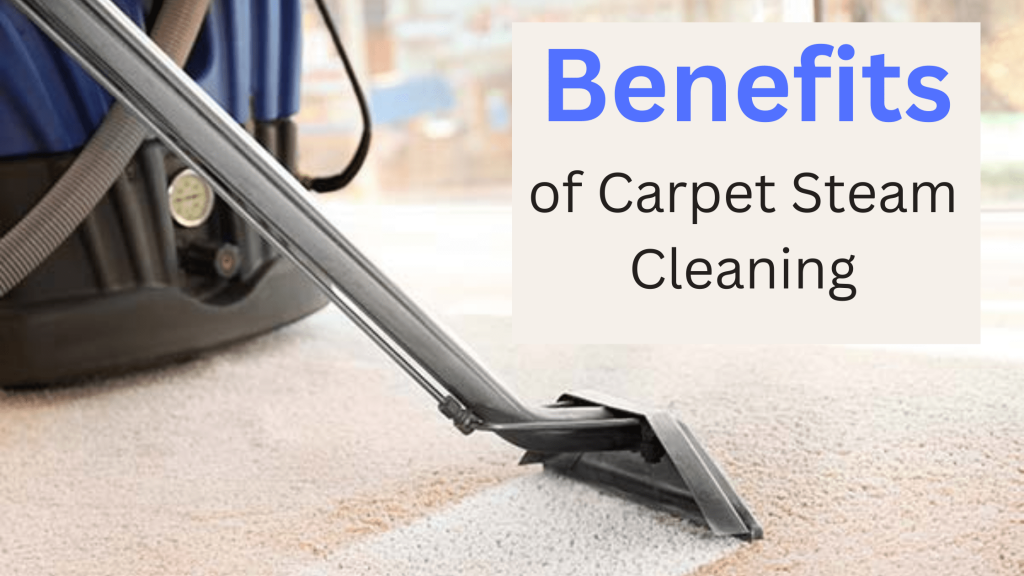 What Are The Benefits Of Carpet Steam Cleaning
There are lots of benefits you can get with carpet steam cleaning. Some of the cleaning benefits are here. Read to know about them.
1. Deep Cleaning
Your carpets may be thoroughly cleaned if you steam clean carpets. The steam and hot water penetrate deep into your carpet's fibers; eliminating dirt, dust, and other contaminants that have collected over time. Compared to other cleaning techniques, this procedure effectively eliminates more dirt & grime, giving your carpets a fresh appearance and scent.
2. Removes Allergens
On your dirty carpet, you may notice dust mites, pet dander, and pollen as a result of cleaning ignorance. But these allergens can cause allergies and respiratory issues. Your carpets may be successfully cleaned with steam to get rid of these allergens. Dust mites and other allergens are killed by the steam's high temperature. Also, steam carpet cleaning leaves your carpets clean and allergy sufferers safe on them.
3. Eco-Friendly
Carpets are a required and essential part of every home because they keep your feet warm and comfortable while also adding aesthetics. But you can try the carpet steam cleaning method. It is an environmentally friendly method of deep carpet cleaning. Well, there is no need to use harmful chemicals because carpet steam cleaners merely utilise hot water and steam. Because of this, it is the perfect option for families with kids or animals who may be sensitive to strong chemicals.
4. Eliminates Odors
Pet, cooking, and other smells can be trapped by carpets. But you can steam clean your carpets. It is also one of the best ways to get rid of unpleasant odours because, with steam cleaning, there is no need to get carpet odour treatment. Your carpets will smell clean and fresh because the hot steam removes the bacteria and germs that produce odours.
5. Saves Cleaning Time
Do you know how long carpet cleaning takes? If you are choosing the option of having steam cleaning, you can complete this procedure in a short period of time. After steam cleaning of carpet, your carpet may dry faster than other conventional cleaning techniques, which might take hours. This saves time and effort because it allows you to reuse the carpets immediately after carpet cleaning.
6. Extends the Life of Your Carpets
The lifespan of your carpets may be increased with regular steam cleaning. The fibres of your carpet might be harmed by dirt and grime, which can hasten its deterioration. Your carpets will look and feel brand new for longer thanks to steam cleaning, which gets rid of these damaging impurities.
7. Improves Indoor Air Quality
Your carpets will be cleaned with the steam cleaning process because it also enhances the quality of your indoor air. With the help of carpet steam cleaning, you can easily get rid of toxins and allergens from your carpets. Furthermore, you can also prevent dust and allergens throughout the house because it is one of the Benefits Of Carpet Steam Cleaning.
5 Steps Of The Process Of Carpet Steam Cleaning
Being aware of the benefits of steam carpet cleaning, you must know about the process as well. So you can get complete information about the steam cleaning technique for your carpet. 
Pre-inspection: Pre-inspection is the first step in the carpet steam cleaning procedure. Like a professional carpet cleaner, you can examine the carpet to determine the exact condition, discover any stains or spots, and choose the most effective cleaning technique. Or, you can directly get help from experts if possible.
Pre-treatment: After inspecting the carpet, use a specialised cleaning solution to pre-treat any stains or spots. In order to make dirt and grime simpler to remove throughout the cleaning process, the pre-treatment solution helps in their breakdown.
Steam cleaning: Steam cleaning comes next. Professional carpet cleaning experts use specialised equipment. And, you can also use a steam cleaning machine to spray hot water and a cleaning solution onto the carpet. Use carpet steam cleaner followed by a strong suction system to remove the water and debris. This procedure helps in removing allergies, germs, and dirt from carpet fibres.
Post-treatment: Then, you can go for a post-treatment solution like wiping off the carpet and carpet sanitisation. This step will help in neutralising any leftover cleaning agent and leaves the carpet with a new appearance and scent.
Drying: The procedure of carpet steam cleaning is incomplete without the drying process. So, extract as much moisture as possible from the carpet, the air will dry it as fully as possible. This keeps the carpet from growing mould and mildew and ensures that you can reuse your carpet ASAP.
Here Are Some Additional Tips For Steam Cleaning Your Carpets:
Select a trustworthy steam cleaning company: If you are choosing expert cleaning at an affordable price instead of carpet cleaning at home, be smart. There are several carpet cleaning companies to select from, so it's necessary to pick one with a good reputation and plenty of expertise. Check internet reviews or ask friends and family for recommendations.
Regularly clean your carpets: How often you need to have your carpets cleaned depends on your lifestyle and how much traffic your carpet receives. You can steam clean the carpet more frequently if there are small children or pets in the home.
Follow the instructions provided by the carpet cleaning company: Your carpets will need to be prepared for cleaning, and the steam cleaning company will provide you with advice on how to do this. For the best outcomes, make sure you carefully follow these instructions.
Your carpets may be kept clean, healthy, and looking their best with regular steam cleaning. You can ensure that your carpets are well-cleaned and that your steam cleaning investment is maximised by paying attention to the advice in this post. In comparison to conventional cleaning techniques, it has a number of advantages. So steam cleaning is a fantastic method for cleaning carpets.