Is Professional Carpet Cleaning Worth It? Here's What You Need To Know About
Does professional carpet cleaning work? Some people overlook carpet cleaning and it results in various carpet problems. These problems can be something minor like a small stain to something major like a carpet getting destroyed. You should always opt for professional carpet cleaning as it is worth the penny that you will spend on the service. Let us tell you about some of the benefits that you will get from professional cleaners and clear your mind of old myths and poor thoughts that let you think too much before hiring a carpet cleaning company.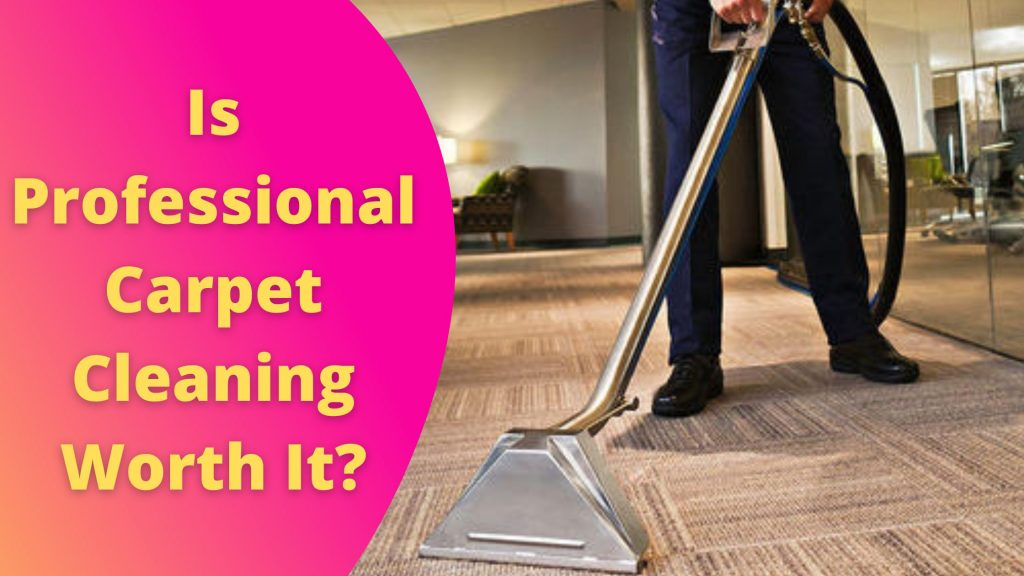 Is it worth getting carpets professionally cleaned?
Does professional carpet cleaning work? If your carpet is starting to smell or show major wear, you might be thinking this. Sometimes expert carpet cleaning might be costly, leaving you to wonder if it is really necessary. Yes, this is the simplest response to this question. In the majority of circumstances, having your carpets cleaned by professionals at least once a year is always worthwhile, however, it might not always be the best choice. Let us consider different aspects of professional carpet cleaning to understand its worth.
Major Improvement In Carpet Appearance: To preserve the original look of your carpet, we always suggest that you opt for regular carpet cleaning every 8-12 months. Dirt in carpets for long time can work its way inside carpets, making it very difficult to eliminate. Normally a carpet will lose its original look and will look shabby over time. Professional carpet cleaning ensures major improvement in carpet appearance.
Health Benefits: When it comes to properly cleaning carpets, something that people might not often consider is that doing so can be beneficial to your health. You must get your carpet professionally cleaned to get rid of the things that reside deeper in the carpet and may harm your health like germs, allergens and dust mites. All year long, a significant number of bacteria, dust, pollen, and allergens are trapped in carpet fibres. Breathing can become tough for you as well as your family if you do not have them thoroughly cleaned by an expert cleaning service.
Life span: Consistent professional carpet cleaning is the most ideal approach to guarantee you can use your carpet for a long time. Practically, your carpet will last 10 to 15 years, if you clean it often as required. If you do not opt for regular carpet cleaning then, your carpet is going to end up in very bad condition. In the end, it can even be destroyed due to a lack of care from your end.
Cure For The Toughest Stain: If you're having trouble removing carpet stains, you should consider hiring a professional to do it instead! Unfortunately, a lot of people don't know what they're doing and wind up making the carpet stain worse and more difficult to remove. However, professional carpet cleaners are equipped to handle urine accidents, blood stains, coffee stains, red wine stains and more very easily. They are trained to get rid of any stain, no matter how stubborn the stain is.
These three points are clearly saying: is it worth getting carpets professionally cleaned? If you are still not satisfied then keep reading ahead.
Can I Use DIY Methods Of Carpet Cleaning Over Professional Carpet Cleaning?
In some cases, you can use DIY methods of cleaning but not in every case. Some things are better if you leave them to experts. When it comes to carpet cleaning, there are a few reasons why hiring a professional is always a good idea as well as some typical blunders that homeowners and even cleaning staff frequently make when attempting to handle carpet cleaning on their own.
If there are some minor and small stains then, sure you can use some DIY methods to remove stains. However, if your carpet is extremely dirty then, the only thing that can help you is a professional carpet cleaning service. For example, DIY methods cannot remove stubborn stains that have made their way to the fibres of the carpet.
In such situations, only professional methods of carpet cleaning can help you. Additionally, professional methods of carpet cleaning are safe to use as they are done with deep knowledge and prior experience. On the other hand, DIY methods are easy to use but they might not be safe for your carpet.
Additionally, carpet cleaning machines can be challenging to control properly because they are heavy and bulky. They also require some ability to control because you have to exert weight to get to the carpet's foundation of the pile without damaging the fibres.
A professional carpet cleaner will, among other things, be aware of how to examine carpet pads and backing for possible mould growth and will make sure carpets are thoroughly cleaned, including any padding where mould may be present. Some carpets might benefit from basic cleaning, but those carpets won't be free of pollutants like mould, mildew, pet stains, beverage spills, and others that have made it to the underside of the carpet.
Conclusion:
We do not think now you have any doubt if professional carpet cleaning is worth it. Yes, it is worth it. We always recommend that you hire a carpet cleaning expert for deep carpet cleaning. Many people frequently wonder whether is it worth getting carpets professionally cleaned, and fortunately the answer is pretty simple. Also, keep in mind that getting your carpets professionally cleaned is a good idea if you're planning to place your house or business on the market. Freshly cleaned carpets can make every property look and smell its best and be ready for an open house and tour. Although it will cost you quite a bit of cash each year, it is preferable in the long run to have your carpets professionally cleaned every year than not to.