How To Remove Red Wine Stains From Upholstery?
Did you find wine stains all over your upholstery after a late-night party? Are you in search of How To Remove Red Wine Stains From Upholstery Look no more as we have different ways to carefully remove wine stains from your upholstery. Red wine stains are among the most hated stains in life! Fabrics are at risk whenever a bottle of red wine is opened, therefore it's critical to grasp red wine stain removal tips for upholstery. However, if you know how to remove a red wine stain, you'll have the tools you need to keep those dreadful stains from damaging your materials. Before we go into How To Remove Red Wine Stains From Upholstery, here are a few precautions to keep in mind:
Do not scrub: Scrubbing is effective on many dirty surfaces including fabrics, but particular stains, such as blood, grass, and red wine, might become worse with a full-fledged approach. Scrubbing a red wine stain will remove some of it, but you will also drive the wine further into the fabric fibers, potentially making it permanent. Instead, adopt a moderate approach and gently dab up the extra red wine before moving on to your preferred stain-removal method.
Don't use heat: If your initial instinct is to grab a hair dryer and dry the stain as it sets, don't. Heat causes a chemical reaction that may set a red wine stain and make it nearly impossible to remove. The same is true for using the dryer or cleaning in hot water. Never machine dry the clothes until you are certain that the stain has been entirely gone, otherwise you risk ruining the garment.
There is no need to wait: Despite scrubbing, red wine stains will naturally soak deeper into clothes if not handled immediately. The longer you wait to remedy a red wine stain, the less likely you are to remove it completely. If the stain is not removed, it will dry and solidify, perhaps destroying a couch cushion or, worse, the carpet! Don't put it off. Use the steps below to remove red wine stains as soon as possible.
Let's discover How to remove red wine stains from upholstery, now that we know what not to do.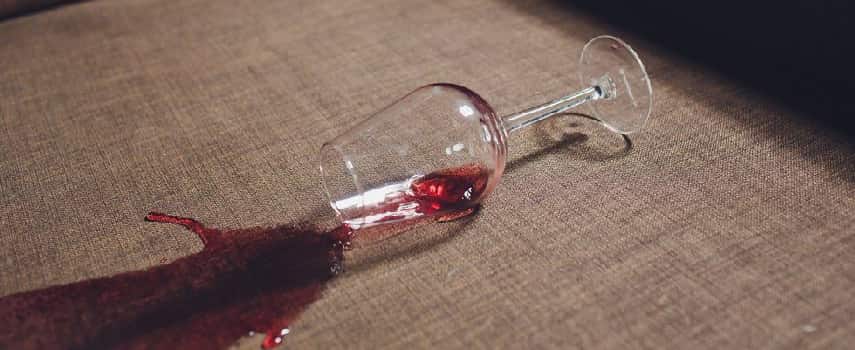 3 Ways To Remove Red Wine Stains From Couch
There are many How to remove red wine stains from upholstery but we explained the top ones among the list that gives the best outcomes. Below are the methods you can follow:
Baking Soda Method
Baking soda has similar effects to salt and gets rid of wine stains easily. You can also note that baking soda has different varieties of properties, like, has a melting point of 50°C and is non-flammable. Baking soda has antibacterial and antifungal properties too and does not let wine stains further develop into mould. Moreover, it is odourless and basic.
Materials Required:
Paper towels or clean cloth
Cold water
Baking soda
Procedure:
To soak up the excess wine from the upholstery, you need to first use paper towels or clean clothes. However, make sure you are just dabbing the excess wine stains and not letting them into the fabric
Do the above step for about 2 minutes to get rid of as much excess wine as possible
Now, apply cold water onto the affected area in small amounts either using a paper towel or clean cloth, and then dab the area until you find almost of stain is removed
After that, you need to make a paste of baking soda and water in a 1:3 ratio
Apply the paste over the stained area on the upholstery and allow the place to naturally dry, how much ever time it may take
Once you find that the area is no wetter, use a high-performance vacuum cleaner to vacuum off the baking soda
But if you still find wine stains on the upholstery fabric, you can either repeat the process or turn up for expert help.

Sparkling Water Or Soda Water Method
Sparkling water or otherwise commonly known as soda water is an effective wine stain remover. It is capable of getting rid of other tricks stains from the upholstery in addition to wine stains. Once you start using this water for stain removal of wine, you find positive after-effects.
Materials Required:
A clean cloth or paper towels
Sparkling water or soda water
Salt (an optional)
Procedure:
You need to quickly get rid of wine stains by grabbing a clean cloth to remove the excess wine as a starting point in this procedure. Other than clean cloth, you can use some paper towels as well
Now, you need to dry the affected area for about 5 minutes and then spray sparkling water onto the stained area
However, if you do not have sparkling water, you can alternatively opt for salt. On choosing this option, take a generous amount of salt over the area and let it sit for around 30 to 45 minutes at the least
After that, clean away the salt from the upholstery and find no more wine stains.

Hydrogen Peroxide Method
Hydrogen peroxide is the safest method for most stains and that includes stains from wine. The reason why it is an effective method is that it has a boiling point of 423K and easily gets miscible in water. In addition to removing wine stains, it has many uses like bleaching hair, cleaning surfaces and tools disinfecting. Now, look below at how hydrogen peroxide can be used for wine stain removal.
Materials Required:
Hydrogen Peroxide (liquid form)
Baking Soda
Cold water
Procedure:
Firstly, you need to do colorfast testing for your upholstery (in a hidden area) to make sure the fabric doesn't shrink or fade
Then, immediately after that use the same step as mentioned in the above two methods. That is, to carefully and gently remove the excess wine by dabbing the area
After excess wine removal, take hydrogen peroxide to directly spray it over the affected area. Check to make sure that hydrogen peroxide completely covered the area
Quickly after spraying of hydrogen peroxide step, you need to sprinkle baking soda on top of it
Later, rinse off the treated area with cold water
But if you still find that there are still some stains from the wine, you can repeat the process all over again until you get desirable results.
Conclusion
If you find that the above-mentioned How to remove red wine stains from upholstery aren't working, then look for professional aid. Because professionals do not just save your time and energy but also offer effective upholstery cleaning methods. Moreover, you can also avail of same-day odour removal and emergency mould removal if you are in desperate need of odour and mould removal services. In addition to this, experts do anti-allergen treatment for your upholstery fabric and improve the indoor quality of your place.