Maintaining Freshness: How Often Should You Steam Clean Your Carpets?
How Often Should I Steam Clean My Carpets? If you are someone who doesn't know the benefits of steam cleaning or what it can do to your carpets, then this blog is going to be extremely helpful. In this, we are going to discuss the frequency of getting carpet steam cleaning services. And how it helps in keeping the carpets in good condition.
You will learn "How often should I have my carpets steam cleaned?" Since carpets accumulate a lot of dirt or gunk particles, it becomes necessary for people to take care of them. But there are other cleaning methods like dry cleaning, instead, why should people opt for steam carpet cleaning? Depending on the type of carpet and the fabric, one can simply opt for carpet steam cleaning.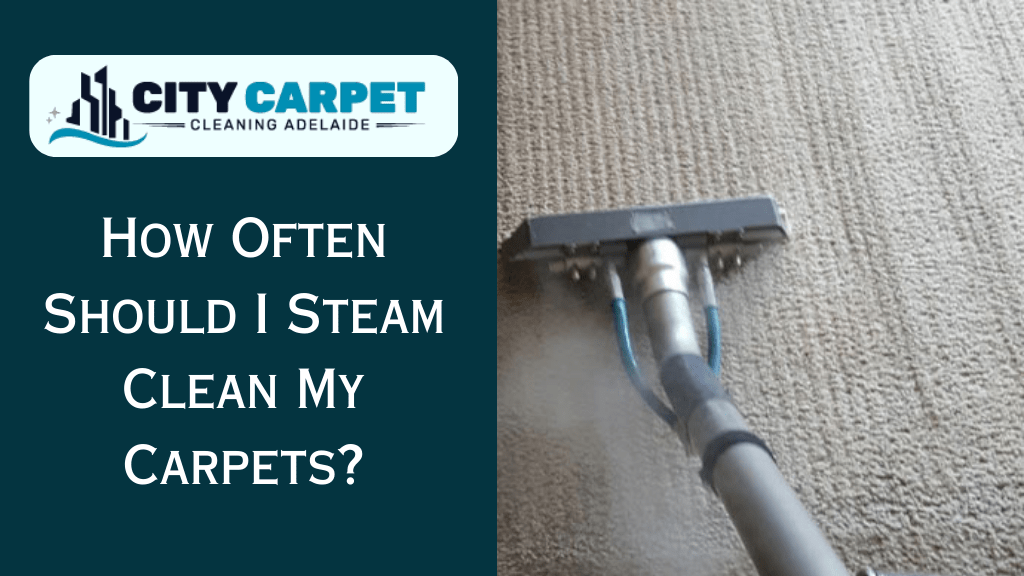 How To Decide If Your Carpet Needs Steam Cleaning?
Steam cleaning is considered to be the best way to keep your carpets clean and free from dust particles. But how often should I have my carpets steam cleaned? To find an answer to this question, one should understand various factors that will indicate the requirement of the carpet steam cleaning service. Despite the benefits, overdoing steam cleaning can also give bad outcomes. So, by analyzing the following aspects, one should be able to understand if the carpet needs steam cleaning or not
Dependent On Foot Traffic: It majorly depends on the foot traffic which is crucial to analyze if the carpet needs steam cleaning or not. If the carpet is laid in high-traffic areas, then it will result in accumulating a lot of dirt and junk particles. Along with this, the carpet can also develop stubborn stains. So, to eliminate all these junk particles and to make the carpets tidy it is usually ideal to steam clean the carpet once every 6-8 months.
Frequent Allergies And Concerns: If you come across frequent allergies and disease conditions in your family, then it might be due to the piling up of dirt particles on the carpets. This indicates that your carpet needs deep cleaning right away. That's when one should realize that it's time to get the cleaning done professionally. Getting professional steam carpet cleaning services have many benefits. 
Analyze The Activities In Your Household: Every household is different and no two houses have the same kind of activities going on, daily. Be it with your pets or kids, it can be chaotic some days and manageable on the other day. These factors collectively influence the dirt accumulation on your carpets. So, analyzing these activities and the adversity of it will directly help you in understanding if your carpets need steam cleaning. Accordingly, you can easily take the right call.
Following The Manufacturer's Instructions: Making sure that you take better care of the manufacturing instructions and getting regular maintenance services is necessary. Depending on the type of your carpet, the manufacturer will provide you with certain guidelines that need to be followed. This includes the cleaning instructions and the frequency of getting carpet steam cleaning service. In addition, the cleaning patterns might alter from one type to another, so manufacturers at times will help their customers track the information as per their warranty terms, etc.
Unforeseen Accidents: Sometimes there are liquid or food spillages or any other unforeseen events on your carpet, that's when it is important to take immediate action and seek cleaning services. Most of the time it has to be steam cleaning because of the results it can bring out. All these will eventually decide the number of times your carpet should be cleaned.
By The Way Your Carpet Looks: The way your carpet appears can be the major determining factor with which one can identify the need for steam cleaning. With the piling up of dirt and other junk particles, the carpet might lose its shine or start to look dull and dirty. This is the reason for dirt accumulating on the carpet. Hence, it is vital to take this event seriously and take necessary actions. This can help in attaining the best results and steam cleaning can thoroughly eliminate the dirt and other junk particles.
Wicking: It is the scenario where dirt and stains are resurfaced after steam cleaning because of the wicking. This is the outcome of inefficient cleaning or even if the cleaning was superficial and the dirt was removed from the surface layers. The dirt and stains that are retained in the deeper layers can reappear eventually when the carpet dries. So, a thorough steam cleaning session can help restore the look of the carpet.
Maintaining Regular Cleaning Schedules: Without considering any odds or analysis, maintaining a regular cleaning schedule also helps. This includes a customized cleaning pattern that is curated for the particular carpet type. Consistency is the key and is completely applicable when it comes to maintaining carpets.
Conclusion
Based on various factors that are mentioned above, one can simply plan regular cleaning schedules. And it is quite important to stick to it. Regular patterns of cleaning prevent the accumulation of dirt and also ensures that the carpets are in good condition. Hopefully, this guide helped you in understanding the frequent question "How often should I have my carpets steam cleaned? " All these factors can individually or collectively help you in understanding the necessity of getting carpet steam cleaning. Eventually one can analyze the needs of the carpet and that's when you would be able to decide how often someone needs to get the steam cleaning services.