How to Clean Up After Bedwetting?
There are so many types of mattresses and all of them need special care and regular cleaning to last them longer and keep them clean for a long time. Pee, vomit and other accidents during the day or night are a normal part of growing up. When a youngster wets the bed, it might be problematic, but it's crucial to know how to clean a child's mattress properly. To avoid mattress stains and odour remaining, you need to fix the issue immediately. For bedwetting cleanup, you'll need a good plan, but if time is of the basic terms, you should look for a means to absorb the extra liquid. There are various ways of cleaning your child's mattress for bedding maintenance. To know in detail about how to clean up after bedwetting, read the blog completely.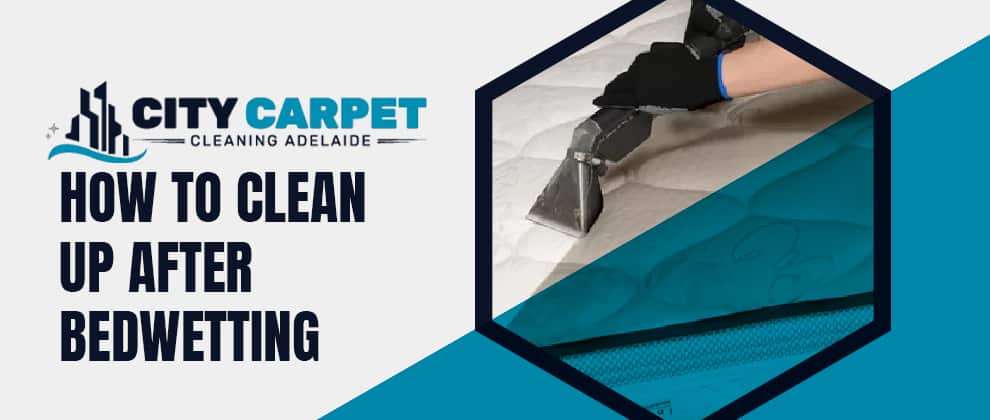 How to Clean Up After Bedwetting?
Here is a quick guide on how to clean a mattress after the bedwetting and odour-elimination process:
Step 1- Act Quickly- This is the most important step you need to take care of while cleaning the mattress. As soon as you see any urine stains on your child's mattress, you must act quickly and try to get rid of them as soon as possible. You can use a dry cloth to blot away the excess urine from the mattress.
Step 2- Remove Sheets And Bedding- Before you start cleaning the mattress and stain removal process, you must clean the bedsheets and pillow covers. You can remove that and put them in a washing machine and send them for a spin. Make sure the detergent is mild and safe for cleaning the bedsheets and pillow covers. This will help in getting rid of the smell as well as stains from the bedsheets.
Step 3- Gather The Belongings- For bedwetting cleanup, you will require many things such as water, vinegar, baking soda, cleaning detergent, a spray bottle, a dry cloth, and a vacuum cleaner with a hose attachment. You may also require a blow dryer to dry after the mattress steam cleaning. These are the basic things required to clean a mattress.
Step 4- Blot The Stain- Once you gather all the important things, you must blot the excess urine using a dry cloth. Slowly blot the area but make sure you don't scrub or rub on the stains as it might spread the urine to all the parts and might also move it deep into the mattress for stain removal.
Step 5- Create And Apply The Mixture Of Water And Vinegar- Create a mixture of 2 parts of cold water, 1 part of vinegar, and a little detergent in a spray bottle and spray it on the stains. Make sure to cover all the areas and wait for around 15 minutes until the solution gets settled on the stains.
Step 6- Dry The Area- Once the solution gets settled on the mattress, you can wait for 15-20 minutes and then blot the area properly using a dry towel. Drying with a towel will help you in getting rid of excess liquid from the mattress.
Step 7- Sprinkle Baking Soda- Once the area gets dry, you can sprinkle enough baking soda on the stains and wait for it to settle. Once it gets settled you can now use a vacuum cleaner to remove the baking soda from the mattress. Baking soda helps remove stains as well as odour elimination from the mattress.
Step 8- Repeat The Process- Sometimes urine stains can be hard to get rid of and you might need to clean them more than once. Repeat the process until you get the best bedwetting cleanup results. Repeat all the steps from the start to get desired results.
Step 9- Dry The Mattress- Once the mattress is cleaned thoroughly, you can use a dry cloth to soak up the excess liquid from the mattress. Now you can dry the complete mattress using a blow dryer or a hair dryer. You can also place the mattress under the fan for at least 4-5 hours to get rid of the moisture from the mattress. Once the mattress is dried up you can place it back properly.
How to Prevent Bedwetting on Your Mattress?
If your child has a habit of wetting the bed often, you can buy a waterproof mattress pad for your Bedding maintenance. Although it feels soft, a waterproof pad features a waterproof covering that prevents liquids from penetrating the mattress. Even if your child has an accident at night, you can easily wash the waterproof liner by removing it. Additionally, a waterproof liner keeps moisture from leaking, keeping it contained until the liner has to be washed. The majority of liners may be washed in a washing machine, however, to remove any excess liquid before doing so, we advise lightly hand washing the liner first.
Conclusion: In case you find it difficult to get rid of the wet mattress urine stains and smells on your own using the above-given ideas, you can hire professional cleaners for mattress steam cleaning. This technique can alone solve all your queries about how to clean up after bedwetting. So consider what is beneficial to you and your kids and keep your mattress in healthy condition.